---
---
7. What is Taekwondo?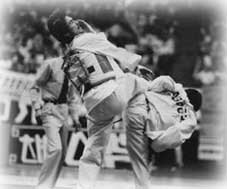 I reviewed the PPT so far. Now then you will see its detailed contents in the main text of this book.
Then what is Taekwondo?
Many people think of it as a kind of fighting skills that is also a frame for man's motion formed under the Korean traditional culture. And it refers to concrete motions in many cases. This book, however, extends such concept of Taekwondo to more abstract and comprehensive sphere. That is, I define Taekwnodo as the philosophical principle that dwells in man's motion.
Then you might recognize some problem in the term of philosophical principle of Taekwondo. For Taekwondo is the philosophical principle by itself. But I think it is not important to think matter of terms, at least for now. It is why I'm using such expression as can be problematic. I mean, I inserted the meaning of philosophical principle in the name of Taekwondo, and we actually consider the philosophical principle thinking what Taekwondo is. It has been somewhat ambiguous so far. And it was also because there was no one that explicated it. But now it is explicit. "Taekwondo" is a term that refers to not only the concrete motion but also the philosophical principle in it. In order to distinguish the two cases when required for academic objective I distinguish "Taekwondo" from "TAEKWONDO".(Ch.1)
Thinking this way Taekwondo can be a philosophy by itself. It is not a philosophy that consists in thinking only with ideas in brain, yet the philosophy as activity that consists of our motions, of our life, thus of our entirety. It may be an opposite conception of philosophy to the given one that a philosophy can be with only language.
This TAEKWONDO as philosophical principle is a principle for all kinds of martial arts. It can be applied directly to another martial art like Wushu, Karate, Hapkido, Judo and Kendo, too. Therefore, philosophy of Taekwondo must be that of all kinds of martial arts. You will come to agree with me when you see the contents of this book can be applied to any of martial arts with no change.
---

1. What is Taekwondo Philosophy?

2. What is the Philosophical Principle of Taekwondo(PPT)?

3. What are the Relations between Taekwondo Philosophy and Traditional Oriental Philosophy

4. What Concepts of Oriental Philosophy to Explain Taekwondo Philosophy?

5. What Constitutes the Entire Contents of PPT? (Rough Contents)

6. What Are the Basic Theoretical Schemes of Taekwondo Philosophy?

7. What is Taekwondo?

---

---
---