3-1. Haneul of Samjae
Let me explain Samjae in detail now. Its first is Haneul. The Haneul in Taekwondo symbolizes the principle of the Nature firstly. The Nature changes wholly. So Haneul also symbolizes the principle of change.
The way of Haneul(Sky), formulated in Taekwondo principles, is that "everything of yourself should be kept on its own place, i.e. its most proper position in continuous change"(Ch.6) Saying here that everything of yourself should be kept on its own place presents static implication. It's because this formulation tells you what you have to do in a change, namely the way how to get your adjustment in a change. After all, however, this tells you the ways to change, which is the foundation of the way of Haneul.
How can you get this way of Haneul? Complicated as it might be to discuss each concrete aspect of it in detail, however, its essential point is simple. It is to follow what is agreed by both natural law and man's will. This is why you can accomplish everything by natual law, without any intention. Thus, it was said "doining not doing, there is nothing you cannot control." This is possible only when you follow <Do>.
Take, for an example, Apkubi Momtong Jireugi for consideration. Moving forward from the pose of Apkubi, you should not draw your fist back unnecessarily that you've already stretched. This stretched arm, as you move forward in and instant, will punch or push out him, shaking him blockading him, so that he cannot find a chance for his counterattack. Otherwise, moving the stretched arm unnecessarily will bring you rather only in dangers. Therefore, you should do nothing at all than the necessary actions. So you keep everything on its proper place. Then, you can control everything by doing nothing. That is to say, you can control over the opponent.
<Good Example of Basic Punch of Taekwondo>

---

<An Example of Use of Basic Punch of Taekwondo>
준비-나아가기-지르기(나쁜 예) - 상대의 역습 지르기<<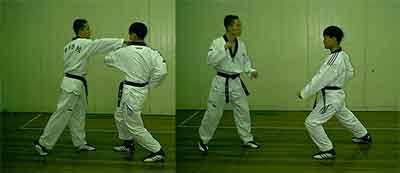 In this way, the principle of keeping everything on its proper place works same also out of the field of Taekwondo. In Mencius it was said, "If one dislike disgrace, one's best course of action is to honour virtue and to respect Gentlemen. If, when good and wise men are in high office and able men are employed, a ruler takes advantage of times of peace," which shows the politics and Taekwondo share the same way of their right practice.
On the other hand, among Haneul, Tang and Saram the Haneul is most difficult. Because this factor of Haneul can be obtained only through training of long tiem. You must keep this in your mind. Why is it that Haneul is most difficult? Because Haneul is the whole that enables distinctive object and the whole is difficult to obtain than a part. And in the whole subjective exists emptily distinguishing itself, so Haneul as the whole is far from me. This is why the factors of Haneul are most difficult to get.
---
<footnotes>
1) Lao Tsu, Tao Te Ching, 03, "爲無爲, 則無不治."
2) Mencius, Book II, Part A, 4; 如惡之, 莫如貴德而尊士, 賢者在位, 能者在職, 國家閒暇.