When as a Taekwondo-Een you have your opponent opposed to the world while you are harmonized to it, your will shall move him and your body shall move the world. Thus, when you punch or kick him your body will subdue him as a part of the world. How is it possible that you are harmonized in a contrary relationship between his body and your weapon? It is possible based upon the same principle whereby the action of a stick beating a drum creates a single harmonious sound.
The characteristics of all the perfectly skilled motions of Taekwondo, and of its attacks and defenses, are not found in its infinite power but in its capacity to properly subdue the opponent and rearrange all things to their appropriate positions. This can also be understood in relation to the way of Haneul (Heaven) within and without Taekwondo; and its other name is "the Great Mean".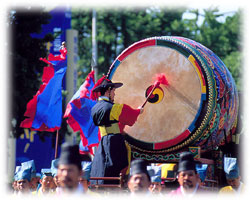 Beating a drum is nothing but having a drumstick hit it, but since this is also related to the principle that enables a good motion to make harmonious use of power in every sufficient pose. Not obeying this principle, beating the drum will prove difficult and even the most enthusiastic action will fail to produce a harmonious sound. How truer must this be so concerning movements of Taekwondo intended to subdue the changeful opponent? Attacking with excessive force, you may destroy yourself in the process. Likewise, if you fail to convert your opponent's force into your own you will both shudder under the shock.
For these reasons, all who practice Taekwondo must endeavor to regulate themselves before attempting to regulate another, endeavor to restrain themselves before attempting to subdue another, and make an effort to overcome themselves before attempting to overcome another. Since Taekwondo engenders the Taekwondo-Een with a positive outlook on life, one should not protest that the world does not assist, but rather change and adapt oneself to the world for one's own success. Without such adaptation no one can attain the ultimate TAEKWONDO. Concerning the way of self-perfection, bear in mind the Do of the great mean, which does not reveal itself outwardly. By pursuing this way in Taekwondo, though you may not always be able to conquer the opponent, you will always avoid being subdued by him. Truly, it is in the coexistence of you and your opponent that you may attain the eternal victory of Taekwondo.